How do I find my Vauxhall Paint Code? There are many reasons you may need to know what your paint code is…. Stone Chips, Resprays or when painting a new Spoiler to match the colour of your car.

So here's how to find it…

Paint Code Location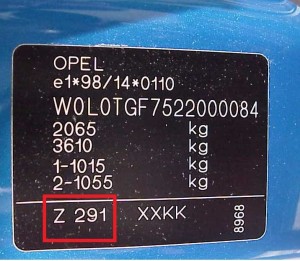 You can find your Vauxhall Paint Code by looking on your Vehicle Identification Number (VIN) plate which is fixed either to the pillar behind the driver's door, the pillar behind the passenger door, or on the top of the panel in front of the radiator when you lift the bonnet. Recent Vauxhall models, such as the Insignia, Astra J, Zafira Tourer will have this plate located on the passenger side of the vehicle, older models such as Corsa C, Vectra and Signum have this plate on the driver's side. Whatever the age of your Vauxhall you will find the plate in one of these locations.
The code is normally 3 digits long and can consist of numbers and letters. The number in the red square to the left shows the important information you will require. The paint code in this instance is 291 Arden Blue / Blue Mica.
Beige/Brown Colour Codes
PAINT CODE
COLOUR
1RU
PANNACOTTA
57
MARBLE BEIGE
58U
MOVANO-DUNE BEIGE
60
CHESTNUT BROWN MICA MET
139
MOVANO-DUNE BEIGE
477
MARBLE BEIGE
480
CHESTNUT BROWN MICA MET
491
SIAMESE BEIGE MET
496
COLUMBIAN BROWN MET
561
HOTPOINT BEIGE
Black Colour Codes
PAINT CODE
COLOUR
2HU
BLACK SAPPHIRE MET
20R
BLACK SAPPHIRE MET
80L
BLACK
81
DIAMOND BLACK MET
83L
MIDNIGHT BLACK MET
200
BLACK
266
DIAMOND BLACK MET
298
MIDNIGHT BLACK MET
Blue Colour Codes
PAINT CODE
COLOUR
03P
ROYAL BLUE
423
ARENA AQUA BLUE
04L
BLUE MET
12
LASER BLUE MET
12L
ARDEN BLUE / BLUE MICA
13
POLAR SEA BLUE MICA MET
14
NAUTILUS BLUE MICA MET
15
BREEZE BLUE
16
REGENCY BLUE
17
MIAMI BLUE
18L
AIRCRAFT/BRITISH GAS DARK BLUE
19
COBALT BLUE MICA MET
20
COBALT BLUE MICA MET
20
AURORA BLUE MICA MET
20A
ARUBA BLUE
20M
PETROL BLUE MET
20N
BLUE MET
20P
MARINE BLUE
20Q
PRESTIGE BLAU / BLUE MET
20Z
ROYAL BLUE
21
HAZE BLUE MET
21
GLACIER BLUE MET
21A
SATURN BLUE MET
22
KINGS BLUE
23
WESTMINSTER BLUE MET
23L
EUROPE BLUE
23U
INK BLUE
24
SPECTRAL BLUE MICA MET
24U
NORTH SEA BLUE MOVANO
25
ADMIRAL BLUE MICA MET
25L
PREMIUM BLUE MET
25U
MARINE BLAU
26
LAGOON BLUE MICA MET
26L
SEYCHELLES BLUE MET
27
COSMOS BLUE
28
ATLANTIS BLUE
28U
NEWPORT BLUE
29
KERAMIK BLUE MICA MET
30
AQUAMARINE BLUE
30
CRYSTAL TURQ MET / AQUAMARINE MET
31
LIFESTYLE / RAINBOW BLUE
32
FROST BLUE MET
33
CARAIBIC BLUE MET
35
CARGO BLUE
37
NEPTUN TURQUOISE MICA MET
53
PETROL BLUE MICA MET
59L
DOLPHIN BLUE
64
MAGNECTIC BLUE MET
69L
PETROL BLUE MET
77U
PETROL BLUE MET
80U
BLUE MET
230
SILVER BLUE MET
232
NOCTURNO BLUE MET
247
ORBIT BLUE
257
LASER BLUE MET
258
BLUE MICA MET
259
REGENCY BLUE
261
HAZE BLUE MET
262
WESTMINSTER BLUE MET
263
COBALT BLUE MICA MET
264
BREEZE BLUE
268
ADMIRAL BLUE MICA MET
269
KINGS BLUE
270
SPECTRAL BLUE MICA MET
271
LAGOON BLUE MICA MET
272
MIAMI BLUE
273
COSMOS BLUE
274
FROST BLUE MET
275
AQUAMARINE BLUE
276
LIFESTYLE / RAINBOW BLUE
277
CARAIBIC BLUE MET
278
PACIFIC BLUE MET
279
AURORA BLUE MICA MET
281
LIFESTYLE / APOREMA BLUE
282
POLAR SEA BLUE MICA MET
283
NAUTILUS BLUE MICA MET
285
ATLANTIS BLUE
286
KERAMIK BLUE MICA MET
288
MAGNECTIC BLUE MET
289
GLACIER BLUE MET
291
ARDEN BLUE / BLUE MICA
293
PREMIUM BLUE MET
294
EUROPE BLUE
295
SEYCHELLES BLUE MET
296
LAGO BLUE MET
2BU
PRESTIGE BLAU / BLUE MET
349
CRYSTAL TURQ MET / AQUAMARINE MET
354
PETROL BLUE MICA MET
357
NEPTUN TURQUOISE MICA MET
3JU
COBALT BLUE
423
NORTH SEA BLUE MOVANO
460
COBALT BLUE
489
INK BLUE
553
CARGO BLUE
612
CAPE BLUE MET
673H
BLUE MET
682
AIRCRAFT/BRITISH GAS DARK BLUE
683
BRITISH GAS LIGHT BLUE
722
MARINE BLAU
752
MARINE BLAU
755
WINDSOR BLUE MICA MET
760
BRONZE BLUE MICA MET
808
PETROL BLUE MET
817
BLUE TAORMINA MICA MET
823
STEEL BLUE MET
833
TROOPER BLUE
858
EMPIRE BLUE MICA MET
8743
NEWPORT BLUE
Bronze/Gold Colour Codes
PAINT CODE
COLOUR
05L
AZTEKEN GOLD MET
15L
COPPER MET
40E
AZTEC GOLD 2
47U
OLYMPIC BRONZE PRL
54
HONEY GOLD MET
58
SOVEREIGN GOLD MET
68L
CHAMPAGNE MICA MET
208C
OLYMPIC BRONZE PRL
405
SOVEREIGN GOLD MET
473
HONEY GOLD MET
489
CHAMPAGNE MICA MET
495
COPPER MET
497
AZTEKEN GOLD MET
613
SATIN GOLD MET
757
GOLD MICA GREEN MET
Green Colour Codes
PAINT CODE
COLOUR
02L
FIFTIES GREEN
06L
SPACE GREEN
940
GREEN MET ARENA
132A
ENGLISH GREEN
18H
MAMBA GREEN
25K
BAMBOO GREEN MET
2EU
GARNGRUN / FERN GREEN MET
3MU
TUNDRA GREEN
31
AMAZONAS GREEN MET
31U
FERNMIST GREEN MET
32L
JADE GREEN
35U
ENGLISH GREEN
36
EMPIRE GREEN MICA MET
36L
APPLE GREEN
38L
LEAF GREEN
38U
DEEP SEA GREEN
39U
OCEAN GREEN
40
MINT GREEN
41L
GREEN MICA MET
42
ROAD LINE GREEN
42L
CYPRESS GREEN MET
43
FLORIDA GREEN MET
43U
KIWI GREEN MET
44
OLIVE GREEN
45
DEEP BRONZE GREEN
45U
GREEN MET ARENA
46
JUNGLE / VELVET GREEN MICA
47
MINT GREEN
47
JADE GREEN
48
EMERALD GREEN MICA MET
49L
KIWI GREEN MET
49U
MOSS GREEN
65
RIO VERDE PRL
66
LIGHT KHAKI MET
69U
SPACE GREEN
86U
FIFTIES GREEN
256
NEW POLOGREEN MICA
309
DEEP BRONZE GREEN
350
JADE GREEN
351
EMERALD GREEN MICA MET
352
AMAZONAS GREEN MET
353
FLORIDA GREEN MET
355
EMPIRE GREEN MICA MET
356
BERT – IRISH GREEN MET
359
JUNGLE / VELVET GREEN MICA
361
MINT GREEN
366
BERMUDA GREEN MICA MET
367
DH BERTONE – SHERWOOD GREEN MICA
369
RIO VERDE PRL
370
LIGHT KHAKI MET
371
APPLE GREEN
372
LEAF GREEN
373
BERT-FIDJI GREEN MET
374
CLASSIC GREEN MET
375
FOREST GREEN
376
TROPICAL GREEN MICA
377
CYPRESS GREEN MET
379
MAMBA GREEN
380
GREEN MICA MET
384
KIWI GREEN MET
386
FIFTIES GREEN
387
JADE GREEN
388
SPACE GREEN
390
MOSS GREEN
392
GARNGRUN / FERN GREEN MET
393
BAMBOO GREEN MET
395
TUNDRA GREEN
396
OCEAN GREEN
486H
MAMBA GREEN
498
HAWAIAN GREEN MET
520F
FERNMIST GREEN MET
565
ROAD LINE GREEN
611
CYPRESS GREEN MICA MET
615
MINT GREEN
670H
FIFTIES GREEN
674H
SPACE GREEN
763
HUNTING GREEN MICA MET
802
BRONZE / NATO GREEN
812
OLIVE GREEN
871
FIR GREEN
880
RANGER GREEN
940
GREEN MET ARENA
941
DEEP SEA GREEN
946
HAWAIAN GREEN MET
D90
MOSS GREEN
D92
OCEAN GREEN
Grey Colour Codes
PAINT CODE
COLOUR
09L
METEOR GREY
32U
DARK GRANITE MET
83
MISTRAL GREY MET
84
BT GREY
85
STONE GREY
86
MAGIC GREY MICA MET
87U
CRYSTAL GREY MET
94
MERLIN GREY
95
GRAPHITE MICA MET
96
SMOKE GREY MET
97
OLIVE GREY TITANIUM MET
119
MISTRAL GREY MET
140
SMOKE GREY MET
143
SATURN GREY MET
144
MAGIC GREY MICA MET
145
STONE GREY
146
OLIVE GREY TITANIUM MET
152
METEOR GREY
200C
DARK GRANITE MET
267
BERT-SATURN GREY MET
363
GRAPHITE MICA MET
566
MERLIN GREY
661
BT GREY
822
SWIN-GREY
849
IRON GREY MET
920
CRYSTAL GREY MET
Red Colour Codes
PAINT CODE
COLOUR
719
ARENA SIGNAL RED
09U
CANYON RED
31U
RUBENSROT / RUBENS RED MET
50L
PERLCOLORROT/RED MICA MET
50U
PERLCOLORROT/RED MICA MET
60
BRITISH POST RED
60U
VINCI RED MOVANO
67U
CITY RED/RED MET
69
RIOJA RED MICA MET
70U
RED MET
72
BACCARA RED MICA MET
73
BORD. RED MICA MET
74U
POPPY RED MOVANO
75
MINERAL RED MET / CALYPSO RED MET
75L
CHIANTI RED
76
TIZIAN RED
77
RUBY RED MET
78
TOSKANA/BURGUNDY RED
78
TERRACOTTA RED / DAMSON RED
79
MAGMA/FLAME RED
98L
CITY RED/RED MET
99L
RED MET
321D
CANYON RED
538
RUBY RED MET
540
MINERAL RED MET / CALYPSO RED MET
541
BERT – RED MICA MET
542
TERRACOTTA RED / DAMSON RED
545
BORD. RED MICA MET
546
BACCARA RED MICA MET
547
MAGMA/FLAME RED
548
BERT – LOBSTER RED
549
MARSEILLE/SATIN RED MICA MET
567
TOSKANA/BURGUNDY RED
568
RIOJA RED MICA MET
570
BERTONE/CALYPSO RED MICA
573
TIZIAN RED
574
CHIANTI RED
575
LBL BERT – BOLOGNA RED MICA
586
PERLCOLORROT/RED MICA MET
591
CITY RED/RED MET
592
RED MET
594
RUBENSROT / RUBENS RED MET
660
BRITISH POST RED
675H
CITY RED/RED MET
678H
RED MET
701
VINCI RED MOVANO
719
POPPY RED MOVANO
756
RADIANT RED
814
TRAFFIC RED
872
ROCK RED MICA
Silver Colour Codes
PAINT CODE
COLOUR
3QU
SPEARMINT SILVER MET
13U
BRIGHT SILVER MET
15U
CAMPO-ASRAL SILVER MET
17U
SILVER MIST MET
20U
NEW SILVER MET
30U
ALABASTER SILVER MET
59L
NEW SILVER MET
82L
STARSILVER MET
85U
CAMPO – KAISER SILVER MET
87
REMBRANT SILVER MET
92L
YUKONSILVER MET
93L
WILLOW SILVER/WEIDENGRUN MET
135
BRIGHT SILVER MET
137
REMBRANT SILVER MET
147
STARSILVER MET
148
DIAMOND SILVER MET
150
WILLOW SILVER/WEIDENGRUN MET
161
NEW SILVER MET
331D
SILVER MIST MET
397
SPEARMINT SILVER MET
718
CAMPO-ASRAL SILVER MET
753
LIGHT SILVER MET
824
ANTIQUE SILVER MET
878
CAMPO – KAISER SILVER MET
892
PLATINUM SILVER MET
9021
BRIGHT SILVER MET
B64
ALABASTER SILVER MET
White Colour Codes
PAINT CODE
COLOUR
389
ARENA ENAMEL WHITE
10
CASABLANCA WHITE/GLACIER WHITE
11L
COLORADO WHITE
11U
ARTIC WHITE MOVANO
16U
CORTINA WHITE
96U
CAMPO-ALPINE WHITE
389
CARABO WHITE
389
ARTIC WHITE MOVANO
474
CASABLANCA WHITE/GLACIER WHITE
487
COLORADO WHITE
752
CREAM WHITE
877
CAMPO-ALPINE WHITE
9753
CORTINA WHITE
Yellow Colour Codes
PAINT CODE
COLOUR
03L
CORN YELLOW
30A
YELLOW GREEN MET
3HU
NEPAL GELB/YELLOW MET
40A
CORN YELLOW
40B
CAPRI YELLOW MET
40D
NEPAL GELB/YELLOW MET
40G
BRILLIANT YELLOW
4GU
CAPRIE YELLOW MET
4HU
BRILLIANT YELLOW
49
LEMON YELLOW
51L
SUNFLOWER/SONNENBLUME MET
52
TUNESIA YELLOW
53L
LIGHT CURRY (BROCADE) YELLOW MET
53U
SAFFRON YELLOW MOVANO
56
CHROME YELLOW/MUSTARD YELLOW
57
PINEAPPLE YELLOW
88U
CORN YELLOW
98U
SAFFRON YELLOW MOVANO
396
SAFFRON YELLOW MOVANO
475
CHROME YELLOW/MUSTARD YELLOW
478
TUNESIA YELLOW
481
LEMON YELLOW
485
PINEAPPLE YELLOW
488
LIGHT CURRY (BROCADE) YELLOW MET
492
YELLOW STONE MET
494
SUNFLOWER/SONNENBLUME MET
631
SOLAR YELLOW
659
POST YELLOW
671H
CORN YELLOW
698
SUOMEN POST YELLOW
762
DESERT YELLOW