The DVLA has urged motorists to check their eyesight using the simple "number plate test" to ensure they are fit to drive.
By law, drivers must be able to read a standard number plate from a distance of 20 metres, but a DVLA study suggested that only half of motorists regularly check their eyesight.
According to the organisation, which is in charge of vehicle and driver records, 43 percent of motorists test themselves using steps or car lengths to check the distance, while just five percent use a tape to measure the distance.
The DVLA has launched a new campaign to encourage drivers to check their eyesight, and the agency has recommended that anyone who fails the test should visit an optician.
Dr Wyn Parry, the DVLA's senior doctor, said the number plate test was a useful way of making sure a driver's eyesight was up to scratch.
"The number plate test is a simple and effective way for people to check their eyesight meets the required standards for driving," he said. "The easiest and quickest way to do this is to work out what 20 metres looks like at the roadside – this is typically about the length of 5 cars parked next to each other – and then test yourself on whether you can clearly read the number plate. It's an easy check to perform any time of day at the roadside and takes just a couple of seconds.
"Having good eyesight is essential for safe driving, so it's really important for drivers to have regular eye tests. Eyesight can naturally deteriorate over time so anyone concerned about their eyesight should visit their optician – don't wait for your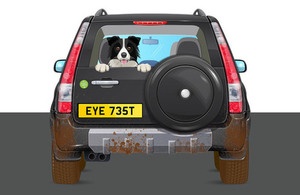 next check-up."